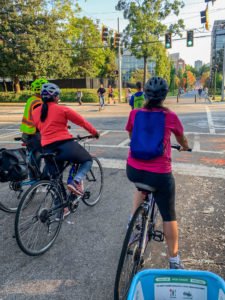 Atlantans across the city are breaking out their bikes for the Atlanta Bike Challenge, taking place throughout October. In celebration of the challenge, ASAP+ recently teamed up with Atlanta Bicycle Coalition to offer a City Cycling class to help Atlantic Station employees and residents gear up for riding on city streets.  

Whether you're a beginner or an experienced bike rider, the class offers tips and support to riders at all levels to boost your confidence cycling around the city. And if you are an experienced rider, the class offers the opportunity to explore parts of town you normally wouldn't get to enjoy by bike while in good company. Check out the schedule of Atlanta Bicycle Coalition's upcoming classes to reserve your spot for the next class. 

Ready to ride with us in the next class? Here's what to expect: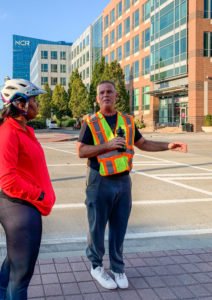 Bring your own bike, helmet, and water. If you don't own a road bike, the classes offer access to Relay Bikes, so you can use one
for free! Pro tip: If you choose to ride a Relay bicycle, be prepared for a bit of a challenge, as the bikes are heavier than your typical road bike.
Get ready for the road with drills and rundowns.

Stephen Spring

, the Education Coordinator for Atlanta Bicycle Coalition, kicks off classes with quick drills like stopping and starting, taking turns, and using hand signaling for cars on the road.

Wear athletic clothes.

We rode about 5 miles during the 1-hour class, beginning at Atlantic Station, traveling through Georgia Tech, and heading down Peachtree Street. Make sure you're ready for the ride by wearing something comfortable.
Ready to ride?
Join forces with the 4,000 people taking part in the Atlanta Bike Challenge this October. To get started, grab your friends, family, or coworkers and register as a team. Or, you can sign yourself up as an individual. Be sure to log any bike rides you take during October, so you can earn points and possibly win some prizes!