Welcome to Microsoft Atlanta
[WORK IN PROGRESS]
Hello! We're ASAP, Atlantic Station's transportation program.
We're here to help you access your building and Atlantic Station.

Scroll on to learn about the options you have to arrive at Microsoft Corp.
Claim Your Free Transit Pass
Microsoft has teamed up with ASAP to provide all employees a free transit pass. Enter your details below to claim your pass.
Convenient
Transit Access
Atlantic Yards is easy to reach by train or bus.
Access Via Train
Plan your trip
Before You Leave: Download the MARTA app for real-time train arrival info.
Your Train: Red or Gold Line
Your Stop: Arts Center Station
Your Next Steps: Exit your train and follow the signs for "Arts Center Way." To get out of the station, tap your MARTA Breeze card at the turnstiles.
Your Exit: Follow the sign that says "Atlantic Station Free Shuttle" to find the shuttle. The shuttle runs roughly every 15 minutes, 7 days a week between 5:00 a.m. – 1:00 a.m. You'll want to depart the shuttle in front of 201 Seventeenth, the white office tower across the street from Atlantic Yards. It is a 10-minute shuttle ride from MARTA to Atlantic Yards, or a 20-minute, 0.6-mile walk from the station to the building's front door.
Access Via Bus
Find Your Bus
Five different bus routes service Atlantic Yards and Atlantic Station. Use these links to find the right bus route and park-and-ride option for you.
Xpress 483 commuter bus operates between Kennesaw/Woodstock park-and-rides with a stop at Atlantic Station.
CobbLinc routes #10, #102, and R10 drop off in front of Atlantic Yards on their way in from Cobb County. The 10 and Rapid 10 pick up in Marietta and along Cobb Parkway near Cumberland, while the 102 picks up in Acworth. Return buses leave from the nearby Arts Center station.
MARTA's #37 bus connects to Atlantic Station from Bolton Rd, Moores Mill, Defoors Ferry, and other destinations to the northwest.
Plus, nearly a dozen other Xpress bus routes stop at Arts Center MARTA station. Get started with your new commute and find the Xpress route that's best for you! At the MARTA station, pick up the Atlantic Station Free Shuttle, which can take you to a stop near your building's front door.
Get Transit Info in Real-Time
[Pending] Atlantic Yards offers a TransitScreen in the building lobby. You get exclusive access to the CityMotion app, which integrates rail, bus, bikeshare, and Uber/Lyft information in one convenient location.
You can check the real-time location of the Atlantic Station shuttle anytime via the PassioGO app, or skip the app and view it here. MARTA bus and rail real-time arrivals are accessible via the MARTA app.
Be sure to follow these CDC guidelines for safety.
Atlantic Station
Free Shuttle
Sit Back, Relax & Enjoy the Ride
Ride the Atlantic Station Free Shuttle to travel between the Arts Center MARTA station and Atlantic Yards. The shuttle runs every 15 minutes 7 days a week between 5:00 a.m. – 1:00 a.m.
It is a 10-minute shuttle ride from the station to Atlantic Yards. You can also walk the 0.6 mile distance in about 20 minutes or take an electric bike or scooter (see more below).
Your Stop Is Right Out Front
Coming from Arts Center MARTA station to Atlantic Yards, there is a shuttle stop in front of the 201 17th Street building. Simply use the pedestrian crosswalk on Market Street for direct access to Atlantic Yards.
Leaving Atlantic Yards, the shuttle stop is immediately outside of the building on 17th Street.
Receive Updates in Real-Time
Use the Passio Go app to access real-time shuttle location data. Download it on the Apple App Store or Google Play.
Top-notch Bike Amenities
[Pending] Microsoft makes biking to work a breeze the bike-friendly accommodations at Atlantic Yards. Store your bike in the building's secure bike racks. Freshen up after your ride at the shower facilities.
Day-use lockers are available, and you'll want to bring a lock with you. Access the bike racks, lockers, and showers by [Pending], which can be unlocked with a building access card.
Please note that bikes are not allowed in the main lobby.
Scooters
Scooters are an easy, convenient, and flexible way to access Atlantic Station.
Where should I park? Scooters should only be parked in the five designated scooter parking zones shown on the map below. Remember, scooters are not allowed on sidewalks, in the parking deck, or on the internal streets of the district at Atlantic Station.

Where can I ride a scooter? (Almost) anywhere around Atlanta! Hop on a scooter and zip over to Midtown, the Arts Center MARTA station, the Atlanta Beltline Eastside Trail, or your favorite destination. Live close by? Try riding a scooter for your commute. You'll be surprised at how easily you can get places.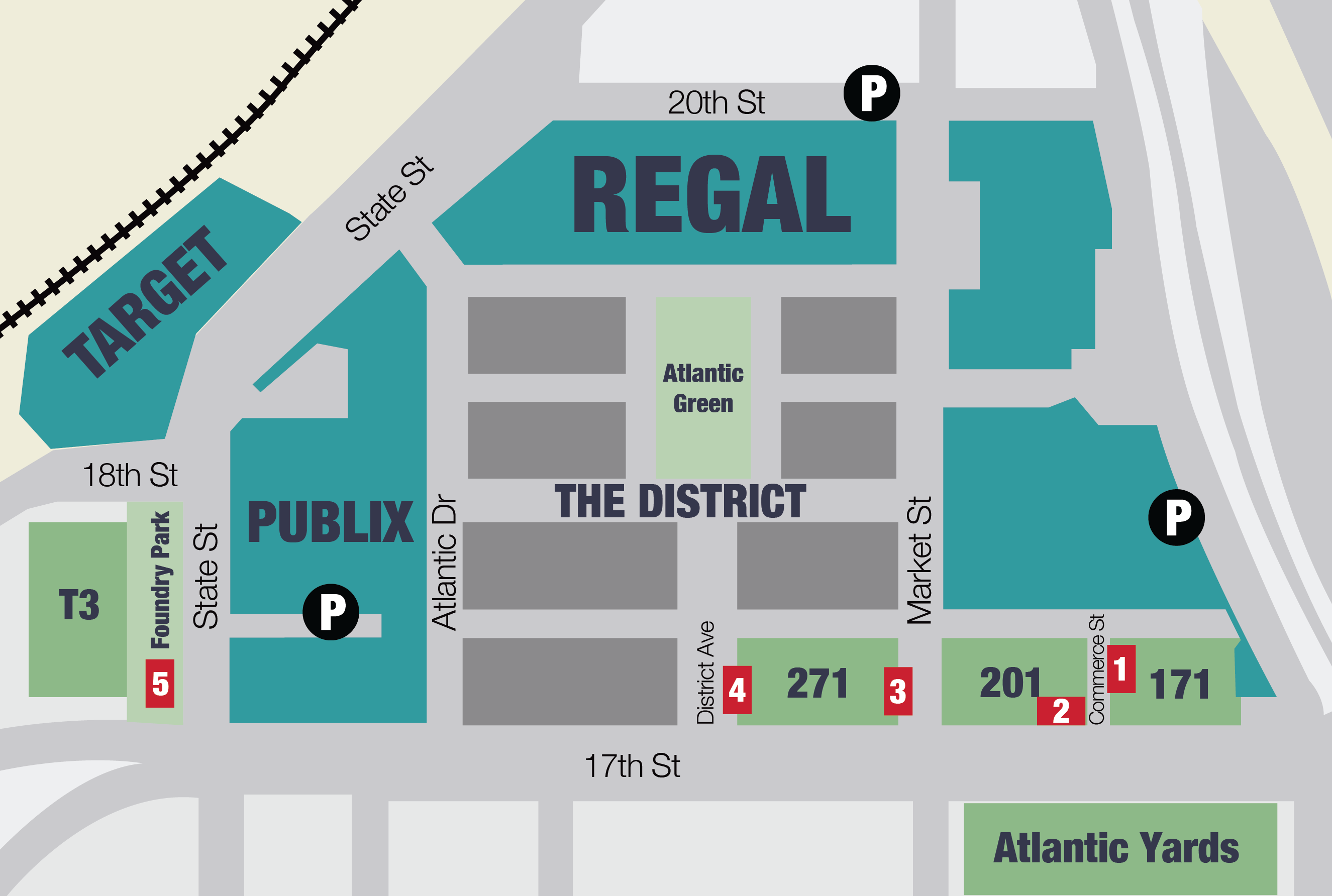 Easy To Carpool
Split your commuting costs, and enjoy life in the express lane. Carpools are simply two or more people sharing the ride to and from work. Need help finding a carpool partner with a similar route and schedule? Find a match via our regional partnership with Georgia Commute Options.
4+ people all commuting the same way? ASAP also helps groups of four or more—usually people commuting a long way—to form "vanpools." Our partners will provide you with an SUV or van to use, and your group will split the costs. To find out more, email us.
Parking
[Pending]
Your employer will coordinate parking on your behalf. 
Get Rewarded For Your Commute
ASAP partners with Georgia Commute Options to offer great rewards to people who work at Atlantic Station that take transit, carpool, bike, walk to work, or work from home. Check out the rewards you can start earning by clicking the button below.
Earn Points
Turn the trips you make every day into points toward rewards.
Get Rewarded
Cash in your points for discounts and deals on any of these—and so much more.

Discounts to Live Locally
With Atlantic Station's A Card, you're eligible to receive benefits, discounts and special offers from participating Atlantic Station stores and restaurants, as well as from other local Midtown businesses and attractions.
Engel & Volkers Atlanta: Partner with Mike McLeod, top selling realtor in Area 22 (Atlantic Station, Midtown, and West Midtown), to find your dream home at Atlantic Station and receive up to $2,500 towards your closing costs, depending on bedroom size. Michael.McLeod@EVAtlanta.com
Mark at West Midtown: Discounted application fee ($25) and administration fee ($75) for those qualified. Please call 800.521.6178 for more information. www.hgliving.com/apartments/ga/atlanta/mark-at-west-midtown
Steelworks: Qualified applicants will have application and admin fees waived ($285 total value). Applicants should select "A-Card Program" as the source of business on the application. steelworksatlanta.com
The Exchange West Midtown: As an employee of a preferred employer, we offer a waived application and administration fee, plus a $500 Visa Gift Card to be received 30 days after becoming an Exchange resident and remaining in good standing. theexchangeatl.com
The Lofts at Atlantic Station: A-Card holders, we would love to welcome you home. Show your card when you apply and we will waive your application fee ($150 savings). Let's WORK. PLAY. LIVE. www.theloftsatatlanticstation.com

We're here to help.
We offer free commute support for people who work at Atlantic Station. Send us a message on Facebook, and we can help you find your best way to get to work. Click the button below to get started.
Spread The Word
Let your colleagues in on the easiest ways to arrive at Microsoft Atlanta. You can share this page with them by clicking the button below.